Good Evening,
The big Mo!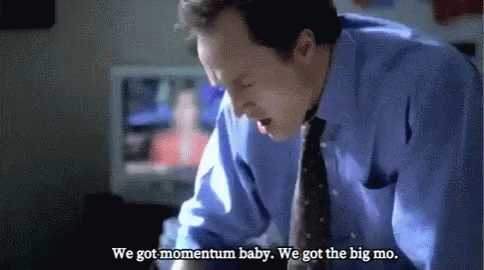 So many things in life, and business rely on momentum. On Facebook and Youtube (and Google to some extent) you have to keep momentum by continually and regularly putting out content to keep the algorithm happy. The same happens in a broader sense in business. Everyone business has times when it starts to stagnate a little bit, that's normal, but you can't let it become the standard or you may just not make it.
What you have to do is find a way to start building some momentum.
Make a small sale.
Update your website.
Do some more outreach.
Follow up on some projects you've been neglecting.
Do whatever it takes to get yourself a small win.
Then another.
Then a slightly bigger one, and a bigger one… until you are back in the zone and doing your best work and achieving great things. It all start with getting that first small win and building on it though. So when you find yourself in a funk look around and find something. Anything, to give you a win and make some progress so you can start building that momentum and getting back in the driver's seat.
We are making a lot of big changes at Legiit right now and we feel like we have a ton of THE BIG MO and will be able to better serve our customers and freelancers. What is something you can do in order to get yourself and your business some momentum? Let me know in the Profiit Academy Daily Facebook Group.
Best,
CMW